Over the last two weeks, the children have had the opportunity to take part in Fairtrade Fortnight 2020. This year, the focus has been on chocolate growers. Take a look at the video at the bottom of the link to find out about where chocolate comes from.
https://www.fairtrade.org.uk/en/get-involved/current-campaigns/Fairtrade-Fortnight
Please take a look at what we have been doing in school, from sharing Maltesers (fairtrade chocolates) to designing posters to inform others about fairtrade.
Here are some comments from our children in school:
"I have seen the logo on bananas and chocolate in shops."
"I didn't know that our food comes from places so far away."
"If we send some money, they will be able to get important things for themselves, like food and a home."
"We can help people if we look for the fairtrade logo."
"When you see the logo, buy something and you are helping people around the world."
Year 6 have been working on creating a healthy mind and body in preparation for our upcoming SATs tests. We have been focusing on sending positive messages to our brains - allowing us the power t complete any challenge!
Year 3 have been learning all about how to brave, what gets in the way of being brave and how we feel when we have been brave. Mrs McCrory even shared a story about when she was brave at Go Ape as she is scared of heights! We have watched clips from Harry Potter which show bravery and read a story called The Wolf's Colourful Coat.
Year 2 have been talking about times when they have had to be brave. We thought of occasions like going on a roller coaster for the first time, standing up for ourselves when others are mean and our first day in Year 2! (That was Mrs Saunders' idea!)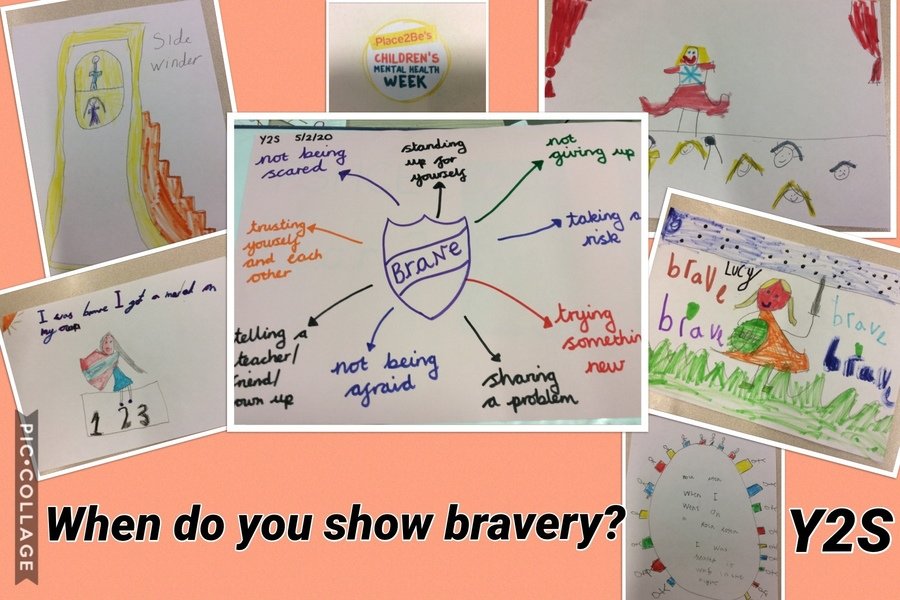 Reception listened to the story of Daniel in the lions' den. They thought about a time when they had been brave. They enjoyed making their own lions.
Today the Year 1 children learned about truth and lies as part of their Heartsmart work. They sorted the truthful sentences from the lies and then designed a poster to show Boris the Robot who to believe. Don't listen to the Scrapman Boris, You are loved!
Year 3 Road Safety
Year 3 enjoyed their talk about road safety. They followed Indi-Annie Jones into the jungle and used drama to demonstrate how to cross a crocodile-infested river safely! Year 3 also know how to cross the road safely by following the 4 rules which are think, stop, look and listen.
WORLD KINDNESS DAY
13.11.19
Celebrating world kindness day today! The children in Year 1 have thought about some lovely ways to show kindness, not only to each other, but their parents, family members and their environment. The world would be a brighter place if everyone followed in Year 1's footsteps.
This week (9.11.19) is Parliament week. Every day, each class will be having a debate on a chosen topic and then voting. Look at some examples below.
More to follow!
What is happening in Autumn 1 term?
In addition to following HeartSmart as our core scheme of work, the teaching and learning of PSHCE will be supported by two whole school weekly themes. The first of these themes is mental health. l take place during the week of the 8th - 12th October which covers mental health awareness day on the 10th October.
We always encourage our children to come and talk to us if they are worried or upset about something. Parents can help by keeping us informed of things that may affect how your child is feeling. Please make an appointment to talk to your child's teacher if you have any concerns about your child's mental health.
A useful website is childline. This offers the children an opportunity to talk about anything. No problem is too big or small. Children can call free on 08001111 or get in touch online at www.childline.org.uk
The second event for this half term is walk to school week. During this week the children will be encouraged to walk at least some of the way to school in order to get their walking passport stamped. During this week the children will learn about the health benefits of walking to school.
Miss S Taylor
PSHCE coordinator
The children really enjoyed our Walk to School Week. Our prefects and other Year 6 helpers were a credit to us as they were out and about stamping and signing everyone's passports.
The children considered the benefits of walking to school and here are some of their comments:
''I liked walking to school with my babies.''
Rosie (Year 1)
''I liked walking with my friend''
Mia (Reception)
''I enjoyed walking to school because it gives you exercise.''
Joshua (Year 3)
''I walk to school all the time because it gives you exercise, it's fun and I can have a chat with
people I walk with.''
Amber (Year 4)
"I like walking my dog at the weekend."
Lois (Year 4.)
"I like walking to school because it is fresh air and if I
walk it cuts down on all the bad stuff that comes out of
cars that isn't healthy."
Joshua (Year 4)