Our school has its own kitchen, where nourishing meals are prepared each day. School meals are eaten in the school hall. The children choose healthy options from at least two main course dishes and two desserts. A large number of children take school meals, which have been praised for their high nutritional content and, importantly, are enjoyed by the children and many of our staff. At the moment a school meal costs £2.30 per day, £11.50 per week.
Dinner money is paid in advance every Friday morning (i.e. for the following week's meals). Payment can only be made via our online payment system, School Money, as school no longer accepts cash or cheques. Parents may find it more convenient to make a single payment for a half term-period which can easily be arranged.
Credits will be given for any meals missed. Some pupils are entitled to free school meals. Parent(s)/guardians may enquire at the school office for further details and advice on how to apply. All such requests are treated confidentially.
School Meals Debt Management
Appendix_3_Parent_Policy_letter.doc
Free School Meals information
http://www.wigan.gov.uk/Services/AdviceBenefitsEmergencies/Benefits/FreeSchoolMeals.htm
Packed Lunches
Arrangements can also be made for children to bring a cold packed lunch to be eaten in school. The lunch must be in a solid container with the child's name on it. For safety reasons lunches should not include tins, cans, glass bottles or flasks containing hot food or drink. All drinks must be in re-sealable screw top containers. We ask that parents provide a healthy school lunch and request that sweets/chocolate/confectionery items are kept for home.
Current menu
Please see below for our current menu: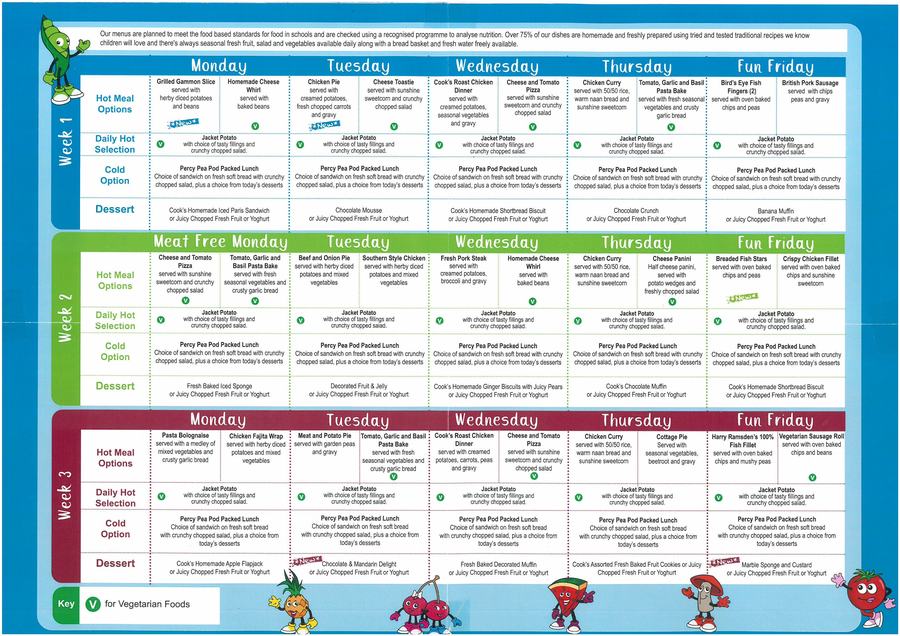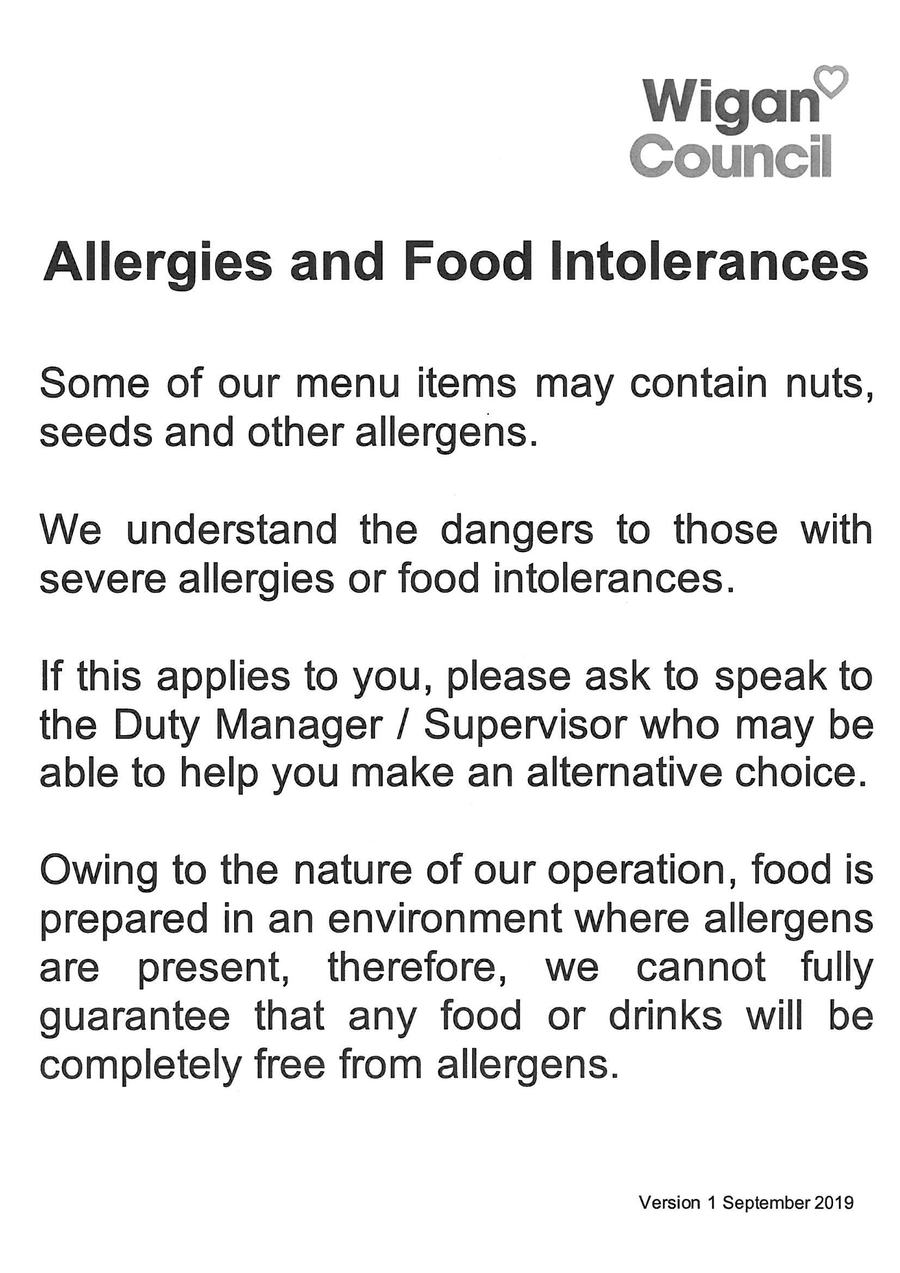 School Uniform
The Governing Body, which includes Parent Governors, has agreed that all pupils should wear a uniform. We are particularly proud that 100% of pupils wear their uniform with pride. They are a credit to their parents and the school.
Royal blue sweatshirts/cardigans

White polo shirt, white T-shirts or white blouses/shirts

Blue and white gingham or striped dresses

Plain grey skirts or pinafore dresses

Plain grey or black trousers (short or long)

Plain grey or white socks

Plain grey or white tights

Appropriate footwear (e.g. black, grey, blue shoes – no trainers)

Outdoor fleece (optional)

Sun cap (optional)

Royal blue sweatshirts, cardigans, white polo shirts and T-shirts embroidered with the school crest can be purchased from AC Sports and Slaters.
Hairstyles
No shaved hair patterns

Appropriate school colours for hairbands and bobbles (i.e. blue, white or yellow – small and discreet)
Requests for pupils to wear cultural and/or religious items (jewellery/ uniform) will be considered on an individual basis by the Governing Body, prior to admission. (Requests must be made in writing to the Chair of Governors)
For art/craft activities an apron or smock made from an old shirt is very useful in protecting clothing.
Key Stage 1
Children are expected to change for all P.E. lessons. For indoor PE they require slip-on pumps, shorts and a T-shirt as listed above. For outdoor PE, children require warm clothing and trainers. We ask parents to provide a drawstring bag to put their child's P.E. kit in. These can be purchased from the School Office and can be left in school. Please mark the kit and the bag clearly with the child's name.
Key Stage 2
Children require white T-shirts, navy blue shorts and black pumps for their P.E. lessons. For outdoor games children will need warm clothing, particularly in winter months (e.g. tracksuit, leggings, sweatshirts, etc.) and trainers. Children will be permitted to wear football kit, including boots or trainers for field games.
We ask parents to provide a drawstring bag to put their child's P.E. kit in. These can be purchased from the school office and can be left in school. Please mark the kit and the bag clearly with the child's name.