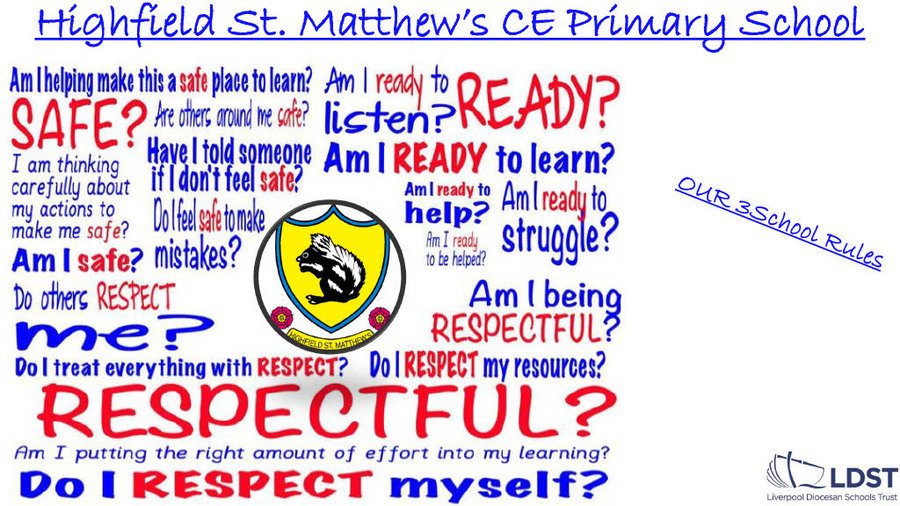 Welcome to our Year 3 webpage!
Click the icon below to view our Y3 Twitter page.
We will share lots of activities and ideas on Twitter for you to complete of the next few weeks.
Mrs Kearsley and Mrs McCrory love to see pictures of your home learning so please follow and tag @HighfieldY3 into your tweets!
Welcome to the Year 3 webpage! Here you will find the weekly plan for your child's home learning. We suggest that during the mornings, PE, Maths and English are undertaken. We recommend that:
Your child logs into and uses the activities on 'Times Table Rock Stars' for 15 minutes each day.

English and maths lessons are accessed through the DfE recommended 'Oak Academy'. Here video teaching supports daily lessons for each subject. This is accessed by a hyperlink from the overview sheet below. All children will need is a pencil/pen and paper to take part.

PE with Joe Wicks

Reading (15-20mins) using Accelerated Reader https://ukhosted102.renlearn.co.uk/2242163
Alongside the weekly plan we will also be doing a 'Virtual School Trip'. This will be changed every fortnight. We know its not the real thing but hope that you still enjoy the trip!
During the afternoons we would recommend that the foundation subjects are covered using 'Purple Mash'. Here you can undertake the tasks allocated by us which we can monitor. You can contact us on there and we will be able to check your progress.
We ask that, if possible, you take a picture of some of your work for maths and writing and send it to the email address (found at the foot of the learning grid) by the end of Thursday's learning each week. This will enable us to monitor and support your child's learning. We will contact families who are not emailing in in order to offer support. We will also monitor pupil's use of TTRockstars and Accelerated Reader.
We fully appreciate that children may not be able to access all home learning set, however, it is important for us to monitor what is being accessed so that we can offer support if necessary.
Happy Learning,
Mrs McCrory and Mrs Kearsley
MUSIC at Highfield St Matthews
Enjoy some home music learning
Take a look at some of our fantastic work below!
Design Technology - Exploring Switches
Year 3 have been very inquisitive about how switches work. They have developed their design skills by making their own switches in Design Technology today. Making a switch can be very tricky but the children never gave up and showed lots of resilience!
British Science Week 2020
Year 3 have enjoyed British Science Week and have enhanced their knowledge about 'Our Diverse Planet'. Year 3 have learnt all about farms and how to start a farm. As their current Science topic is learning all about plants, Year 3 have continued to develop their science skills and now understand that there are different types of farms. They understand that farmers will look at the location of their farm, the climate, the season and the demand for fruit and vegetables in order to decide what type of farm they will have. Year 3 have developed their Maths skills as they have voted on their favourite vegetable grown in March and then show their results in a pictogram.
World Book Day 2020
Year 3 have really enjoyed World Book Day and enjoyed sharing stories about their favourite characters and books. The Year 3 classrooms were filled with lots of amazing characters from a wide range of books. Mrs McCrory even joined forces with Miss Caunce and Miss Seville and became the three little pigs. Mrs McCrory was very itchy with the straw and her classroom turned into a real life pigsty! Y3S had a great time listening to stories outside in the sun and Y3K used their art skills to design new book covers.
Music - Easter Celebration
Preparations are underway for our Easter Service. Be prepared to be amazed!
Design Technology - Let there be light!
Year 3 have been learning about how light has evolved throughout history as part of their Unlocking Task. They have also developed their analytical skills by evaluating existing products on criteria such as colour, appearance, height and brightness of a variety of lamps.
Geography - How long can our world last?
Year 3 have started their new topic in Geography by completing a learning map about how we have damaged the Earth and had we can protect it. They then watched videos about Easter Island, Australia and the Maldives and how each place was damaged. The children then wrote a paragraph about how they can save the world.
Science - The Structure and Function of Plants
Year 3 have watched a video all about plants and have used key vocabulary from the video to write their own facts. They have then completed their learning map and remembered lots of previous knowledge about plants and trees from Year 2. Next, the children read all about the different parts of a plant and labelled and created their own fact file on the job of the stem, roots, leaves and flower.
English - Shape Poems and Calligrams
Year 3 have started to learn about Shape poems and Calligrams in English. Today, they have been very inquisitive and wanted to create their own calligrams. Take a look at their fantastic work below. We have some very creative and skillful children in Year 3!
Science at home!
Since Christmas, Christopher has been completing lots of science experiments at home as he received a Science kit for Christmas! He has completed many investigations including how to make a dirty coin shiny again by using mustard. Here is a picture of Christopher during his experiment.
PSHE - Find Your Brave
Year 3 have been learning all about how to brave, what gets in the way of being brave and how we feel when we have been brave. Mrs McCrory even shared a story about when she was brave at Go Ape as she is scared of heights! We have watched clips from Harry Potter which show bravery and read a story called The Wolf's Colourful Coat.
Art - Who were some of the great European Artists?
Year 3 have started constructing their buildings as part of the Impact Task. They have based their buildings on Le Corbusier's work. We have some architects in the making. Take a look at the construction phase below!
Light and Shadows
Year 3 have been learning about how we can see objects that are not sources of light. They have been investigating how light reflects using shiny materials such as mirrors and have also been writing messages in code just like Leonardo Da Vinci.
Maths Adventure Day
Year 3 have really enjoyed Maths Adventure Day with Subject Revolution. The children have worked well as a team by taking it in turns, being patient and using each other's knowledge to help them. The breakout room included puzzles based around different Maths topics. Y3 managed to break out of the room with time to spare and blew up the spaceship with the robotrons on!
Art - Who were some of the great European Artists?
Year 3 have really enjoyed painting like Michelangelo. The children learnt that he never painted an animal so their task was to paint different animals upside down! Year 3 found it really tricky to paint upside down but they still had lots of fun and learnt lots of facts about him!
English - Instruction Writing
Year 3 have learnt all about how Iron Age roundhouses are created. They then made their own roundhouse using card but made sure they read all the instructions first!
History
Year 3 have started their new topic Bronze Age to Iron Age. The children have produced a map of a settlement at the start of the lesson (left of the pictures) and then another map after learning all about Bronze Age settlements (right of the pictures). Year 3 have learnt all about what they need in a Bronze Age settlement such as the woods, a river and roundhouses.
Year 3 have started their new topic Bronze Age to Iron Age. At the start of the lesson, they have created a mind map demonstrating all their knowledge from their last topic about the Romans and have listed different Roman inventions. Their previous knowledge of the Romans will help them when learning all Bronze and Iron Age inventions.
Computing
Year 3 have been creating their own quizzes in Computing with Mrs Webster. They have made their own true or false questions based upon staying safe when using Purple Mash.
Instruction Writing
Year 3 have been learning all about instructions and how important it is to read them carefully. As part of the 'immerse' part of our topic, we have followed different recipes to make jam sandwiches. Yummy!
Who were some of the great European Artists?
Year 3 are enjoying their new Art topic and have brought in their own research about different European artists as part of the 'Unlocking Task'. The children have chosen their won artists to research such as Van Gogh, Picasso, Da Vinci and Banksy. Check out the work produced by Emily, Harvey and Ethan below.
Road Safety! Road Safety! Road Safety! Road Safety! Road Safety! Road Safety!
Year 3 enjoyed their talk about road safety. They followed Indi-Annie Jones into the jungle and used drama to demonstrate how to cross a crocodile-infested river safely! Year 3 also know how to cross the road safely by following the 4 rules which are think, stop, look and listen.
Year 3 have been composing music after listening to Hall of the Mountain King by Grieg...
Maths Week Maths Week Maths Week Maths Week Maths Week Maths Week Maths Week
Year 3 have been learning all about Fibonacci, the famous mathematician. We have written lots of facts about him and have worked out the next numbers in the sequence. We have even had a go at drawing the sequence in our books. We can spot the numbers in Fibonacci's sequence in nature such as a clover, a snail's shell and a pine cone! Take a look at our fantastic work below.
Year 3 are enjoying Maths Week and are using their knowledge of addition to make 100 by escaping the maze! Will they escape the maze? Check out their work below!
Parliament Week Parliament Week Parliament Week Parliament Week Parliament Week
Year 3 have been debating whether there should be an age limit on eating junk food. The results are in... Y3S For: 8 Against: 19. Y3K For: 13 Against: 15. Both classes were against the idea of an age limit. The children expressed their opinion confidently and passionately. I think we might have a few Prime Ministers in the making!
What can we find in the UK?
Year 3 have started their new Geography unit 'What can we find in the UK?' by discussing facts and using an atlas to identify the countries and cities within the UK.
How do I get a silent night?
Year 3 have started their Design and Technology journey for the Autumn term! They have been immersed into the topic by evaluating existing products. The children brought in a range of pillows and cushions from home and have conducted a product analysis on them, looking at how they have been made, the aesthetics and how comfortable they are! They will now use this knowledge to make their own! Keep your eyes peeled!
Tie-Dye!
Year 3 have been tie-dying their material as part of their Design Technology topic. After the dye has dried, they will be ready to create their pillow. They have chosen a range of techniques and have created patterns such as stripes, spirals and polka dots.
Meet the Teacher 2019 - 2020
Thank you to all the parents and carers who attended the Year 3 Meet the Teacher session. Below is the presentation in case you missed it.
Year 3 really rocked the TT Rock Star Day! Take a look at our Rock Chicks and Rock Legends. Rock on Year 3!
During Collective Worship, Year 3 have been discussing how we can show love around school. We can show love by helping others when they are struggling with their work and showing kindness to everyone.
Roman Experience Day
On 1st July, we welcomed an educational company called 'Makers of History' to our school. The children were invited to dress as Celts and experience what it was like when the Romans took over the country.
They learnt about what the Romans brought to Britain and got an idea of what it was like to be a Roman.
Lots of fun was had by all! Below are a few pictures from our day.
E-Safety week
This week in Y3, the children have used the computers to create a poster. The aim of the poster is to promote safe and positive use of digital technology.
Take a look at an example from Oliver and Brandon in Y3E.
Happy New Year!
This week we have been learning how to follow instructions and have made some delicious jam sandwiches.
This half term we will be learning all about different rainforests. We will be locating different rainforests on a map, looking at different animals and their habitats and comparing the different climates.
Thanks from Miss Smith, Mr Edwards and Mrs Kearsley